Fill your basket with products by clicking "Add to my collection" from any product page. This can be found either within the product options panel or below the product image. Collections can be saved, and stored, within your HAGS Connect account or create and print your own custom brochure, download the files you need in one go, or to request a quote.
How to design your own multi-use games area
Our ARENA product range comes with various standard configurations that fit different requirements, but you may need a ball court tailored to your budget, space or community needs.
As ARENA is a modular system which offers maximum flexibility, you can design your own bespoke structure in no time.
Here are a few simple steps to follow.

How to customise ARENA Multisports
ARENA is our flagship multi-sports system made from durable and high quality materials. These extremely versatile multi-use games areas can be adapted to fit your requirements.​
The diagram below shows the elements that you can customise in our ARENA to suit your needs.
Use the green circles to explore the components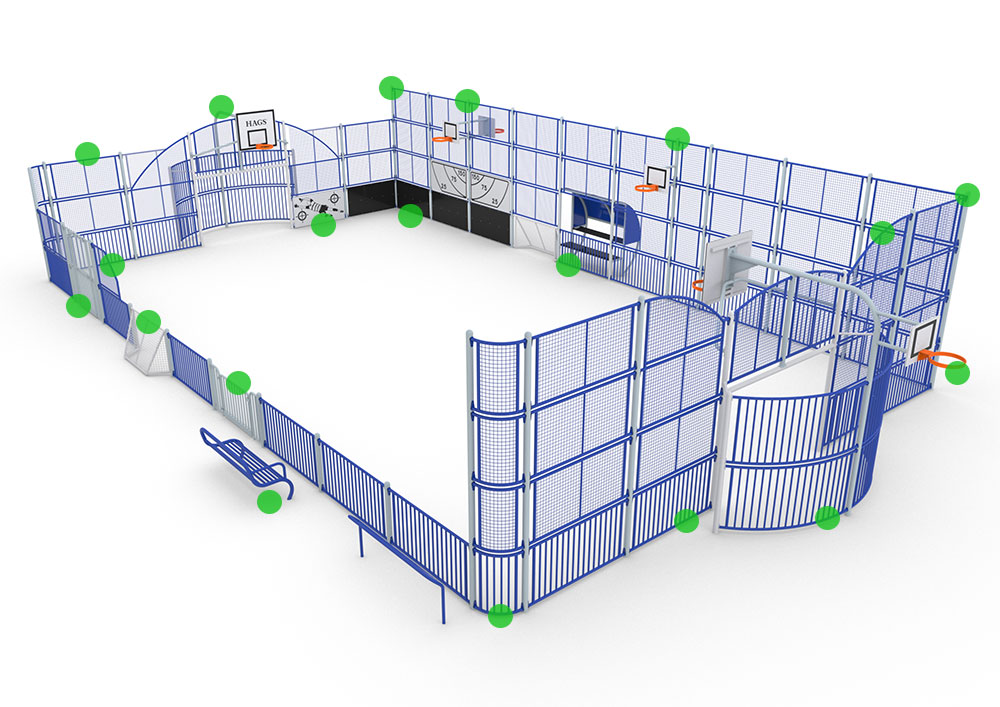 How to customise ARENA Lite
The ARENA Lite range offers a more standardised version of the ARENA but with the same flexibility to fit your requirements. This strong and durable multi-sports court is made from robust materials with a minimalist design.
The diagram below shows the elements that you can customise in our ARENA Lite to suit your needs.
Use the green circles to explore the components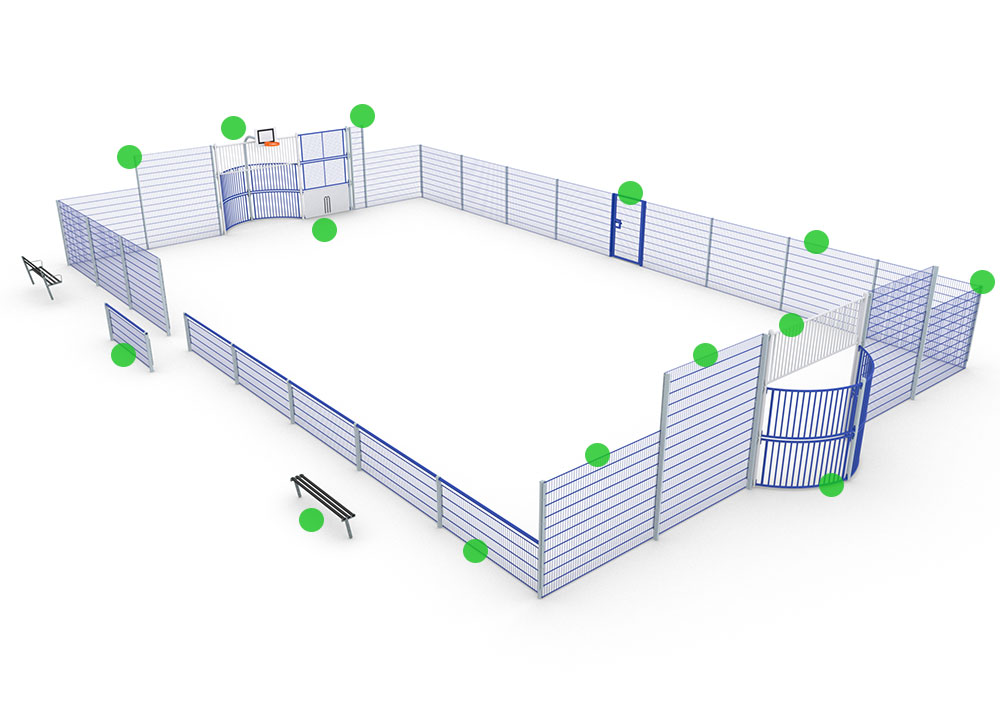 Step-by-step guide for creating a bespoke multi-sports games area
1. Establish the playing zone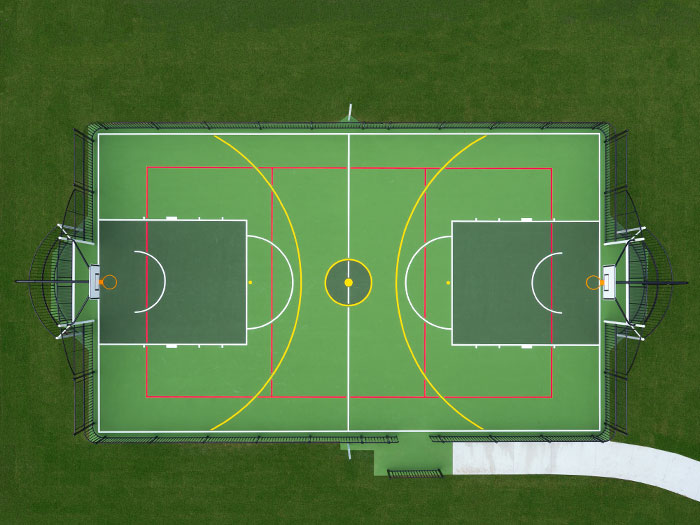 It's important to get the size of your ARENA right for the site and for the users. We can design it specifically to cater for your needs.
ARENA has 3m wide goals and 1m or 2m wide panels, to make your ball court as large or as small as required - it couldn't be easier!
Just remember, in order to have that stylish rounded corner look, the width of the ARENA playing zone will be an even number, i.e. 8m wide, 10m wide and so on!
2. The goal ends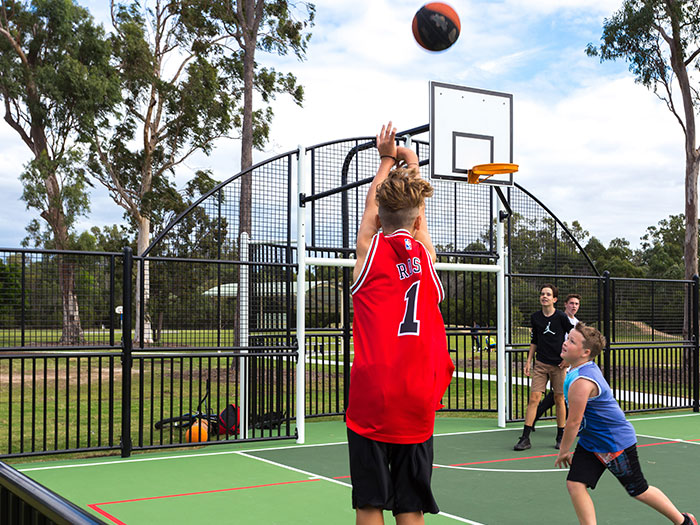 ARENA goal ends are ideal for enabling users to practice their shooting skills and provide the perfect solution for one-on-one games.
Our range includes goal ends that cater for many ball sports with the ability to customise them to your needs.
3. Panel heights and types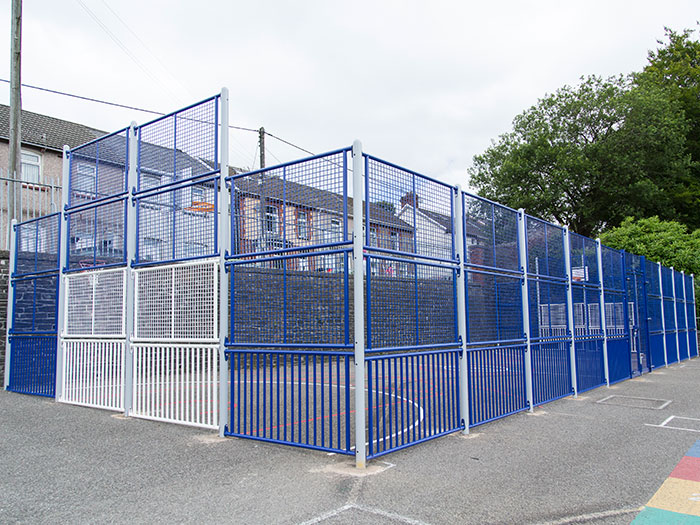 Panels are available in 4 heights: 1m, 2m, 3m and 4m high; which helps keep things simple when designing and building your ARENA.
Lower bar panels come as standard. For hockey areas you can have solid polyethylene panels.
There are also different types of panels that you can choose from to suit your criteria; these include, bar, mesh and solid panel options.
Choose from the same height side and goal end walls or make each wall a different height.
4. Making an entrance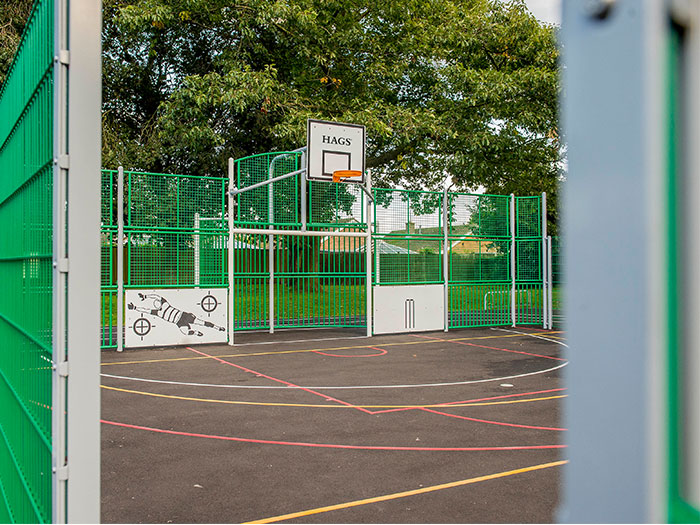 All entrance gates and chicanes are designed to allow easy access for all.
The escape points behind the goal allow for quick ball retrieval as well as an additional entrance / exit point, however they can be closed off if required with a mesh infill.
Vehicle access gates are also available to allow emergency services or maintenance vehicles into the area when required.
5. Additional sports games and accessories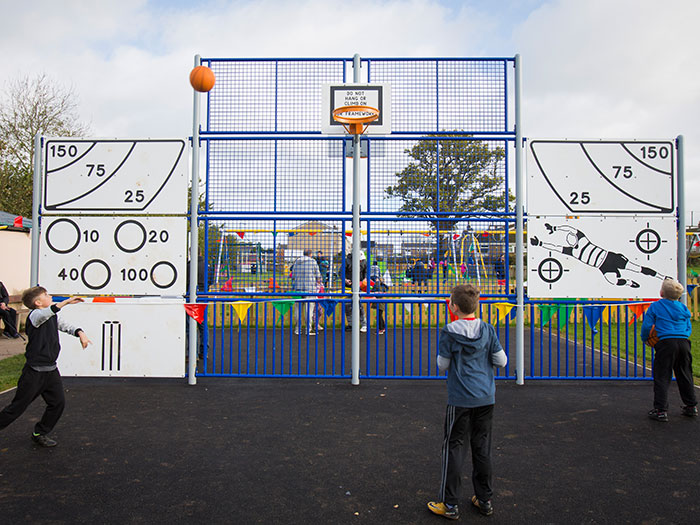 Skill panels are available in various designs and colours, they can be included on any ARENA and positioned at any height. Accuracy and other coordination skills can be practiced and honed.
Reverse facing basketball boards and hoops can be added to the back of the goals to increase the number of users in the system.
Mini goals offer the users extra elements of play. These can be positioned wherever required and allow smaller groups to practice in different parts of the system.
6. Add seating and shelters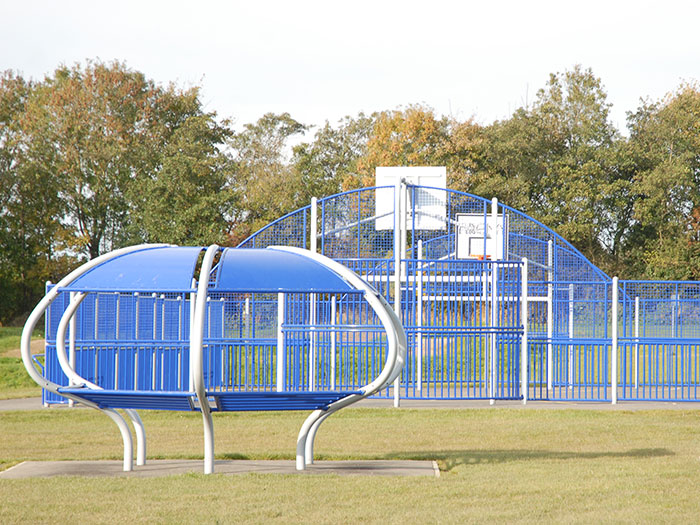 With football being the game of two halves and basketball being split up into quarters, even the pros need a break.
Add some team shelters to your sports court, giving the players somewhere to perch during their breaks, as well as providing spectators with somewhere dry to watch the games being played out.
Sin bin, lean back, chat room, meeting point and hub seating are specifically styled to match ARENA for a complete sporting experience.
7. Type of surfacing and style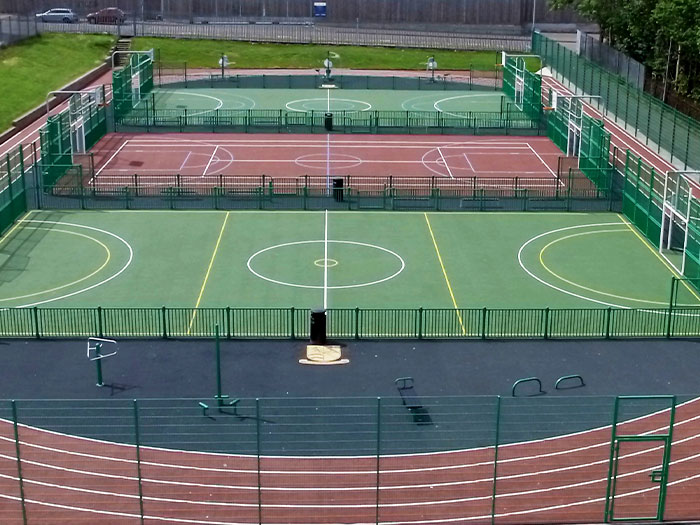 ARENA can go onto any hard-standing surface and we can also supply surface mounted ARENA systems.
Tarmac is still the most popular surface for ARENA. It's easy to install, easy to maintain and makes a good surface for the majority of sports.
Want a splash of colour? An acrylic resin surface could be for you. It will let water drain through, eliminating puddles and it can be coloured to your taste. Resin is ideal for running tracks around the outside of an ARENA as well as inside.
8. Choose your colour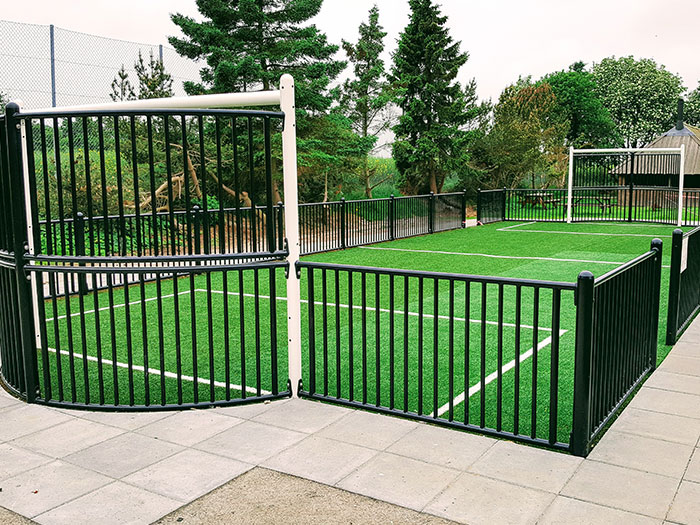 Are you in an area of natural beauty, but need to supply sports equipment?
HAGS have installed MUGAs into woodlands and green areas, which fit in with the natural environment due to the number of colours available.
Below are our standard colour options. If you require a different colour, please get in touch.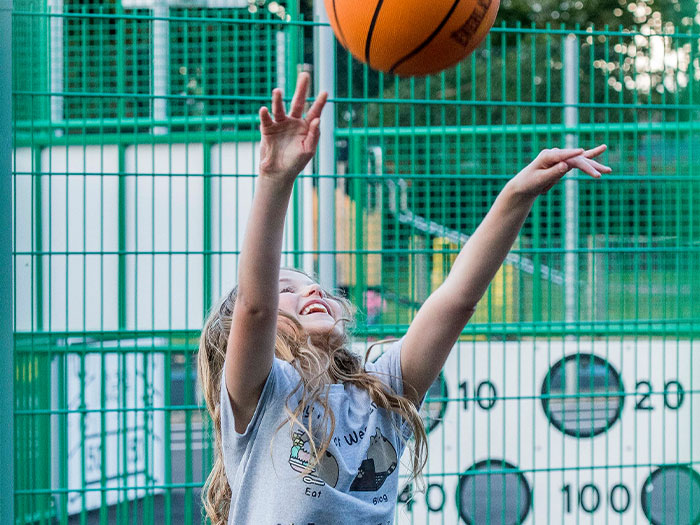 ARENA is our expertly designed multi-use games area, providing people with an exciting and professional space to play a number of games.
Learn more about ARENA, its inclusive features and specifications.
Tell me more about ARENA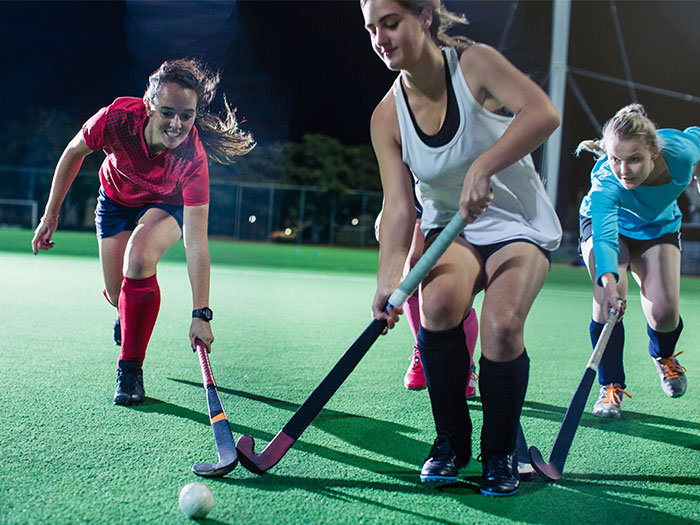 Get in touch with our team who will be happy to help and answer your questions about designing your own MUGA or choosing from our standard range.
Contact Us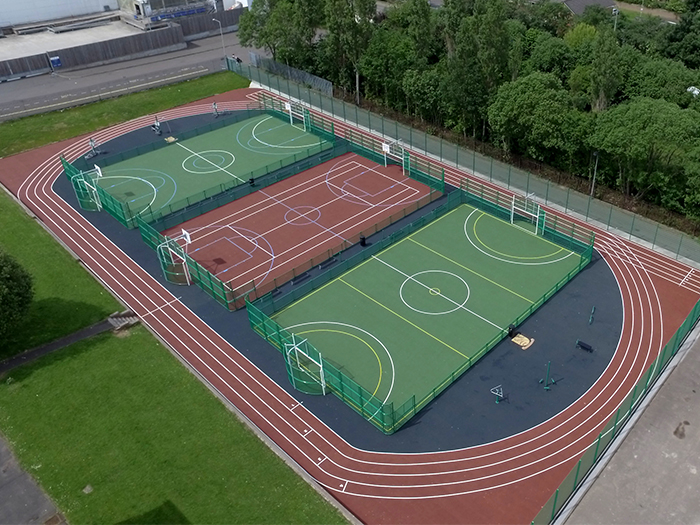 HAGS were invited by North Lanarkshire Council to tender for the provision of a large Multi-Use Games Area at Bellshill Academy. The contract was the largest development of this type that North Lanarkshire had carried out and was awarded to HAGS via a competitive process.
Read More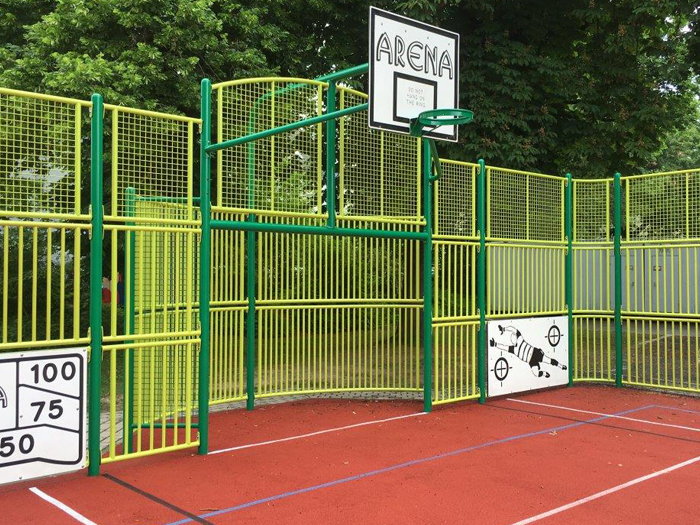 The requirements from Heiligkreuz Middle School were to have a fully lockable multi-sports facility including a seating area for the schoolyard to watch all the sports action.
Read More
Contact Us
If you have questions or would like to know something about our products, you can contact us by phone, fax, email or directly on our website. If you do not know who at HAGS you should talk to, or if you would like to come in contact with a specific person at HAGS, you are welcome to call our switchboard to get connected to the right person.