Fill your basket with products by clicking "Add to my collection" from any product page. This can be found either within the product options panel or below the product image. Collections can be saved, and stored, within your HAGS Connect account or create and print your own custom brochure, download the files you need in one go, or to request a quote.
Multi-Purpose Fitness Frame
The Multi Purpose fitness frame is designed for a total body work out which encourages the use of natural body weight exercises to help develop core strength and confidence. Suitable for differing abilities and up to 5 users at any one time, it will help the experienced user to build strength gradually or offer a gentle introduction to functional fitness for beginners who want to train at their own pace.
It's also a great tool for personal trainers who are looking into running individual or group training sessions. The frame is also suitable for resistance training using bands. Crafted from powder coated steel, with no moving parts or exposed bearings the multi-purpose fitness frame requires limited maintenance and is certified to the EN16630 standard.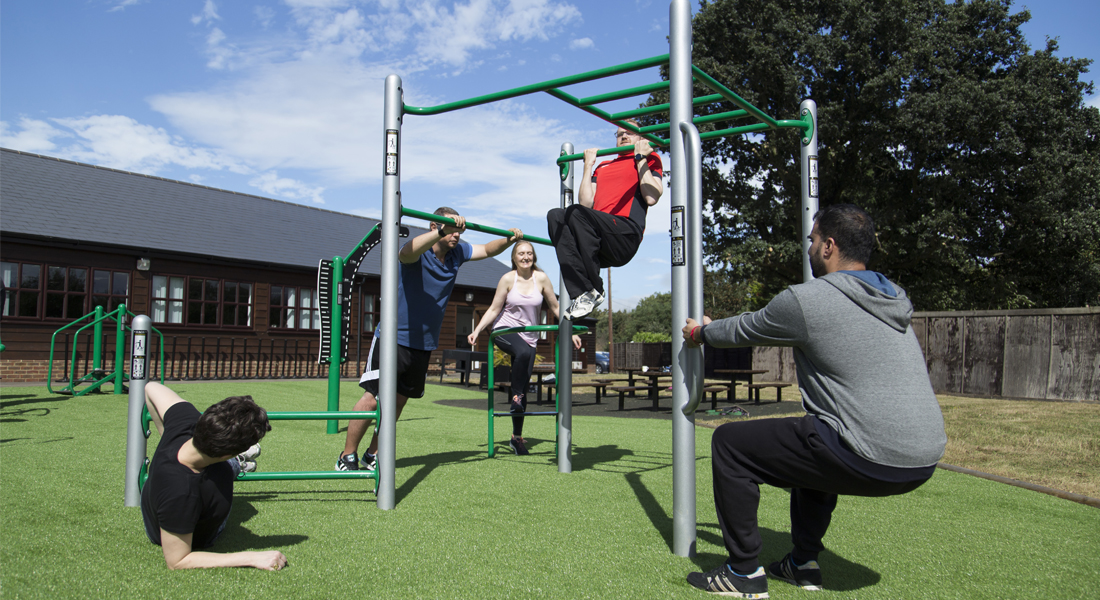 Bar Jump
A low bar for a basic bar jump. Useful for developing agility and training thigh muscles.
Chin Up
The chin up strengthens thigh and shoulder muscles and is a form of pull up utilising a underhand grip.
Crunches
The low bar can be used to anchor the feet for crunches. An abdominal exercise similar to a sit up.
Dip
Train your chest and triceps with the dip frame. A pair of fixed parallel bars.
Hanging Leg Raise
Utilise the chin up bar to perform a hanging leg raise, working the abdominal muscles and thighs.
Hover Decline
Make use of the low horizontal bar for the hover decline or plank, to work the abs.
Human Flag Post
a narrower vertical bar allows for improved grip for this impressive maneuver.
Inverted row
A shoulder height horizontal bar allows for the inverted row, a modified pull up which works the lats and biceps.
Muscle Up
Take the chin up to the next level by performing a muscle up on the high horizontal bars.
Pull Up (Wide)
Use the side of this fitness frame to perform a wide pull up.
Push Up
Push up on a decline with the low horizontal bars.
Stretch Squat
Utilise the vertical pole to support your weight and work the thighs with the stretch squat.
Step Up
Step up onto the step attached between the parallel bars.
Triceps Ladder
The shoulder height horizontal bar can also be used for the triceps ladder exercise.