Fill your basket with products by clicking "Add to my collection" from any product page. This can be found either within the product options panel or below the product image. Collections can be saved, and stored, within your HAGS Connect account or create and print your own custom brochure, download the files you need in one go, or to request a quote.
5 things to check when buying a playground swing
A playground classic, swings have been a permanent fixture in public outdoor spaces for decades and they are one of the most recognisable, well-loved play units among the general public.
The movement of swinging is indeed an enjoyable experience both for children and parents: it promotes laughter and happiness, beneficial to both physical and mental health; it encourages parent-child interaction during play, making it a positive bonding experience. A number of experts also agree on the positive impact it has on children's physical and mental development, from improved body awareness to a sense of happiness and belonging. Swings can be seen as a simple piece, however they need to tick a lot of boxes, from play value to safety requirements. Here are 5 criteria to take into account before shopping for a swing: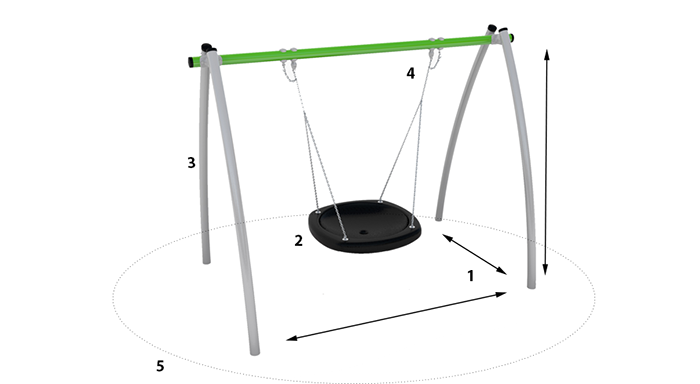 Dimensions
When shopping for a swing, look for the free fall height and the falling space area, which are indicated under "space required" on our product pages. The free fall height is the usual point from which the user can fall; the falling space area is the safety zone surrounding the equipment that needs to be clear from any obstruction. By determining the total space needed and the amount of surfacing required, these dimensions will affect the overall cost of the installation. For example, the higher the fall height is, the thicker the surfacing needs to be to absorb impacts in case of a fall. A tall and wide swing frame will also require a larger safety area to avoid collision with users using another piece of equipment.
Type of seat
The choice of seat depends on the desired age group and the number of users playing at a given time. A seat for very young children or those with low core stability will require extra back support to ensure they are perfectly safe when playing. For older children who crave for social interaction, basket swings are the go-to products as they can accommodate a larger number of users and offer optimal cost per user. * Basket swings also enable users of differing abilities to play together as children with disabilities can sit comfortably and enjoy the ride with their able-bodied friends or carers.
Materials
The type of material plays a big role in the decision-making process as it will vary according to the aesthetic you are trying to achieve or your maintenance requirements. Architects or green spaces officers who wish to create play areas with a natural feel tend to favour timber swings as they will blend harmoniously into a rural setting. On the other hand, those looking for modern-looking, bold designs echoing the urban architecture will love the contemporary look of our steel swings. Steel is also easier to maintain and will be more durable to vandalism, so it is best suited to challenging urban areas.
Safety features
Some of our swings feature 'anti-wrap' bearings on the cross beam to prevent the swing seats and chains becoming wrapped around themselves, making the swings unusable. The Stratus designs include an extra chain to provide additional support.
Location
As for any piece of moving play equipment, general safety requirements must be followed when installing a swing. The positioning of the frame should minimise the risk of collision by being at a safe distance from other play units and away from paths and gates. Also make sure there is no landscape element in the immediate vicinity of the swing; shrubs, trees or boulders can be potential hazards if children happen to fall from the swing or run around it carelessly.
Omega Swing Frame with Bravo & Tango Swing Seats
Contact Us
If you have questions or would like to know something about our products, you can contact us by phone, fax, email or directly on our website. If you do not know who at HAGS you should talk to, or if you would like to come in contact with a specific person at HAGS, you are welcome to call our switchboard to get connected to the right person.