Fill your basket with products by clicking "Add to my collection" from any product page. This can be found either within the product options panel or below the product image. Collections can be saved, and stored, within your HAGS Connect account or create and print your own custom brochure, download the files you need in one go, or to request a quote.
How to choose or build a multi-play unit
One of the main benefits of playground multi-play units is how they enable you to make the most of your space available: with loads of different play activities spread across several floors, they can keep large numbers of children active and engaged at the same time.
Besides, by combining physical challenges with quieter educational games, they cater for children of different levels of ability or age groups, providing them with the opportunity to interact and play together.
Our UniPlay system, designed for children between the age of 2 and 12, has a unique modular design that will let you adapt any structure to your budget and space requirements, as well as your design brief.
Here, we highlight the ways that you can customise our standard units, how they can be adapted to suit your environment and the possibility of building your own from scratch.
Mix & match colours, materials and play functions on standard units
We have many wonderful standard units with lots of play value in various colours, materials and themes to suit any play area. When selecting from our off-the-shelf range, you can either keep the unit as it is or customise it to follow your design brief by changing certain features, as mentioned below.
1 - Choose one of our off-the-shelf standard configurations
Looking for ideas? A standard unit may be the perfect solution for you as our range comes in different materials, and covers a variety of needs and aesthetic requirements.
Browse all the options presented below and feel free to contact our play specialists to know more about the range.
Our mulit-play structures come in different material combinatons:
Timber multi-play units
Best value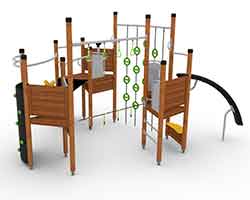 Timber & HPL multi-play units
Bright & hard wearing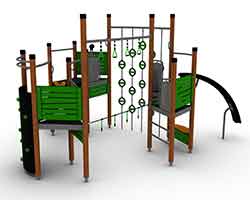 Steel & HPL multi-play units
Low maintenance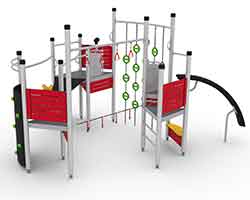 2 - Swap play components
Perhaps you've spotted a UniPlay design that would be perfect for your scheme, but you'd rather have a climbing net instead of a slide. An existing configuration can be adapted to your brief very easily by swapping play functions*; and with 50 components to choose from, you will be spoilt for choice.
*Our team of designers will work with you during the consultation stage to make sure that the new design meets current safety regulations.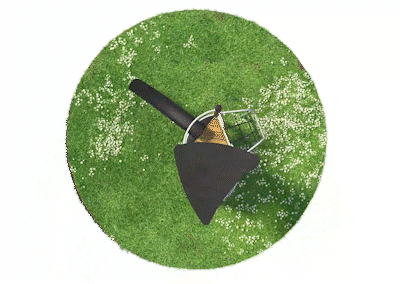 3 - Choose a custom colour scheme and/or theme
Although our standard range already offers a variety of colour and theme options, a lot of customers order bespoke colour combinations or themes to meet very specific design briefs. We can manufacture posts, decks and roofs in any colour from the RAL colour chart* and can also create multi-play structures around a particular theme for a distinctive unit.
So, whether you need a neutral colour palette, have a theme in mind or want contrasting hues for a striking playful look, we can make this possible.
*Subject to extra cost and lead time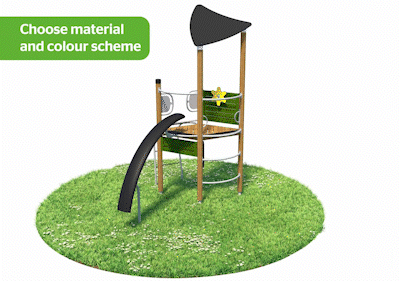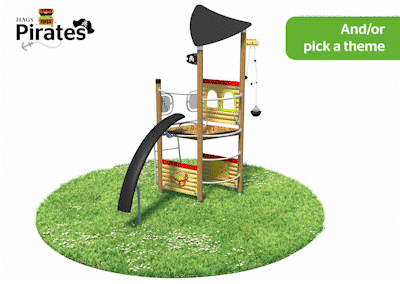 4 - Connect two standard multiplay units
This is the easiest and quickest way to create a bespoke unit as it requires little additional design work, perfect if you want to scale up whilst having to meet strict deadlines.
It also means that you can build your play structure in stages to match your budget schedule.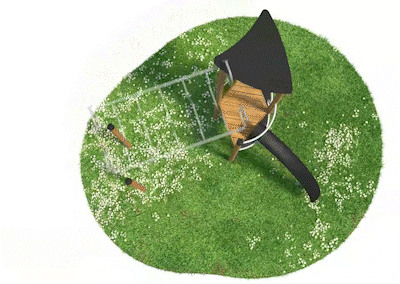 Build your own UniPlay unit from scratch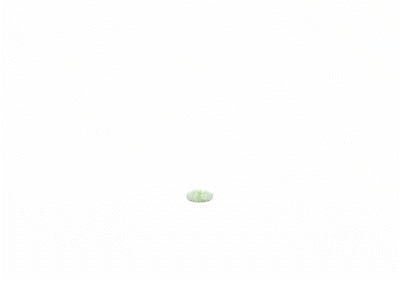 Perhaps you want the play are to mirror the surrounding architecture or local landmarks, you have specific constraints to deal with, or you just want your new facility to tell a unique story that will captivate the residents and make them feel proud of their local area. Whatever the reason, you can create an entirely bespoke structure.
UniPlay's modular system gives us the flexibility to combine posts, panels, decks, roofs and other components to create unique designs. Experienced landscape architects or contractors will have access to all the CAD blocks necessary to achieve this, whilst our design team is here to help if you have no or little technical background to make your vision a reality.
We can make your dreams come true!
Below are the materials that you can choose from when creating your own UniPlay unit.
Please contact us for more information on creating a bespoke multi-play structure.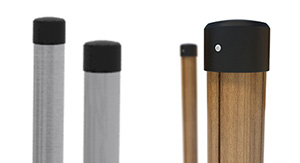 Steel or timber posts
Choose from bark brown engineered pine with galvanised steel footings, or take powder coated/stainless steel posts for maximum durability.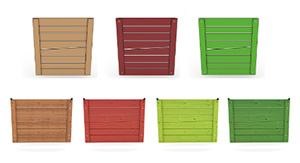 Timber or HPL panels
Panels are available in brown, red or green in a slatted design whether you choose our original timber look, or the durable and bright HPL option.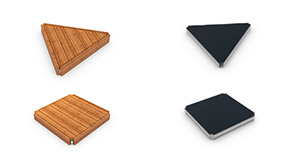 Decks in timber & HPL
Complete the natural look with bark brown timber decks, in square or triangular shapes or select hard wearing HPL in black with a non-slip surface.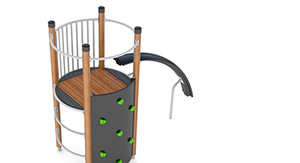 Which is best for you?
Find out more about the materials we use in our UniPlay Range
Build vertically
High towers have that wow factor that will make them the focal point of any play area, thus immediately grabbing the attention of visitors.
UniPlay's modular design makes it possible to add floors and build up towers as high as 10 meters.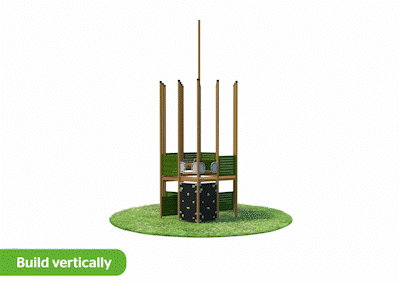 Expand horizontally
The same principle applies to horizontal building. Plus, our triangular and square decks can be combined in multiple ways to create bespoke layouts.
The possibilities are endless!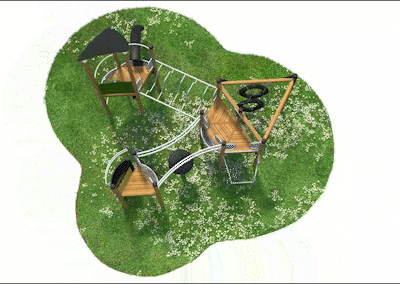 Build your playground on a slope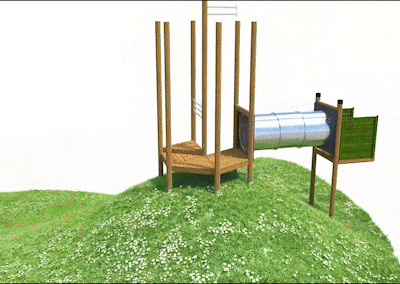 Far from being an obstacle, the natural terrain can be incorporated into the design of a UniPlay unit and contribute to a stimulating play experience.
As posts come in varying sizes and with no pre-drilled holes, they can be used to create a structure following the landform to make the most of a challenging sloping ground.
Besides, children are naturally attracted to interesting landscapes with changes of levels, so this configuration adds further play value to your scheme.
For slopes, suitable play activities or ground floor modules will be recommended by our design team who have created thousands of challenging yet safe structures on a sloping play surface.
Incorporate the landscape as a feature of your multiplay unit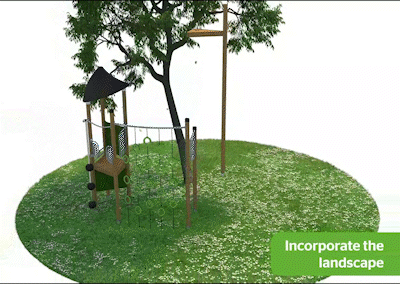 Trees, shrubs, rocks and boulders help create a multi-sensory environment where children can explore nature, develop key motor skills and use their imagination; they also provide a habitat for a multitude of species, thus fostering biodiversity.
There has been a great emphasis lately on how important natural spaces are to people's health and wellbeing and how crucial their preservation is to our future. Therefore, many customers will ask us to keep and protect these natural features when installing a play area. Keeping the natural setting intact also softens the visual impact of a playground, an important feature for locations with strict conservation standards and where the equipment needs to be sympathetic to the surrounding environment.
Owing to UniPlay's flexibility, we can easily overcome any challenge that landscaping elements may present by incorporating them into the design, whilst making sure all safety requirements are met and adhere to strict conservation standards. We can also build multi-play structures with high play value that can fit within a relatively tight space, for example between a pathway and a woodland.
Want to know more about how to create inspiring play areas with landscaping elements? Read our playscape design guide.
Contact Us
If you have questions or would like to know something about our products, you can contact us by phone, fax, email or directly on our website. If you do not know who at HAGS you should talk to, or if you would like to come in contact with a specific person at HAGS, you are welcome to call our switchboard to get connected to the right person.