Fill your basket with products by clicking "Add to my collection" from any product page. This can be found either within the product options panel or below the product image. Collections can be saved, and stored, within your HAGS Connect account or create and print your own custom brochure, download the files you need in one go, or to request a quote.
Know more about the materials we use
Nordic pine timber play equipment and outdoor furniture: features and benefits
The natural-looking aesthetic of pine timber play equipment makes it the perfect addition to urban green spaces and rural settings.Timber also has great educational value and can be part of a stimulating outdoor learning program, designed to encourage children and adults alike to discover and value nature.
Whether you are looking for outstanding durability or great value for money, here is why timber play equipment will tick a lot of boxes:
Why is pine timber equipment strong and durable?
Our pine wood is sourced from Scandinavian forests, where the trees grow slowly and develop a very dense and compact quality. We carefully select the best trees that are free from defects. Nordic timber contains a high proportion of heartwood and naturally comes with a lot of resin, which is a natural impregnation agent. Even untreated, it is thus extremely strong and less prone to bug or fungus infestation. Our pine will also withstand harsh weather conditions such as long, cold Nordic winters or damp environments.
Timber parts are first treated with oil, which increases the material's durability and enhances its natural appearance. A woodstain primer and finisher are then applied to add an additional protective layer and a smooth finish, as well as a pleasing subtle colour. It also means that the surface resists water penetration.
All our wooden posts have galvanised steel ground sockets to avoid direct contact with soil, thus reducing the risk of mould contamination or rot. This feature also eliminates the risk of strimmer damage. Vertical posts come with a plastic cap on top for additional protection.
Loadbearing posts are made from laminated wood and engineered to cope with heavy wear and repeated impact. Stress relief grooves help stabilise the wood and reduce its tendency to split/crack.
Our team of engineers also work hard to come up with well though out design solutions to prevent water stagnation, which accelerates the wood decay process.
We are so confident that our equipment meets high quality standards that we offer a guarantee of 10 years on engineered timber against failure due to rot.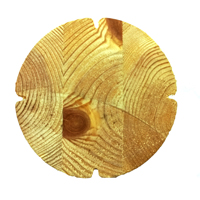 Our laminated timber poles are composed of three sections joined together, a method that increases strength and reduces cracking.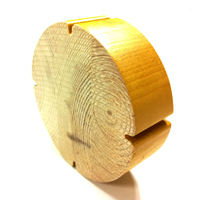 Machined grooves allow the wood to expand and contract without cracks forming.
What are the environmental benefits of Nordic pine timber?
Timber is a renewable raw material, making it one of the most sustainable materials.
All our timber is FSC-certified and comes from responsibly managed forests.
Our wood-cutting process is entirely computerised and reduces the amount of waste.
We only use water-based biodegradable solvents which don't a negative impact on the environment.
How to maintain or recycle pine timber play equipment and outdoor furniture
Timber is a natural material, so it tends to shrink in dry conditions and expand when it's damp. Some minor cracks and splits may appear over time but it won't affect the equipment's structural integrity, so it's not something to be worried about.
Our timber equipment can last more than 20 years in normal conditions. We recommend our customers to regularly inspect for debris such as sand or leaves, clean the equipment with a mild detergent to remove any dust or residue from air pollution, and refresh the equipment with an extra coat of paint every 3-5 years to keep it in the best condition.
As all our coatings are biodegradable, wooden components can be burned or recycled and no specific disposal process is required.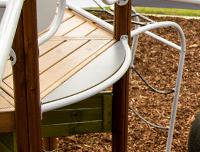 Pine timber decks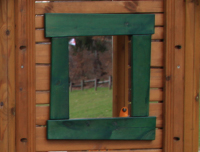 Pine timber panels and window frames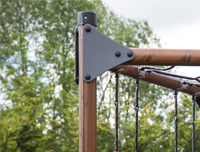 Pine timber posts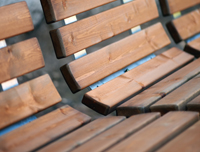 Pine timber park and urban furniture
Why choose steel equipment?
Steel equipment boasts a sleek contemporary look and can be used to complement modern architecture. It is also a low-maintenance option offering outstanding resilience, which makes it suitable for challenging environments.
We only use structural grade steel engineered to cope with repeated use and heavy impacts. The material undergoes a number of treatments that increase its durability and resilience.
Why is steel durable and resilient?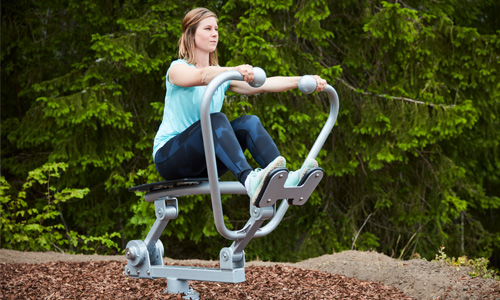 Powder coated steel: process and finishes
By having the whole process in house we have full control on quality and safety. We source our coatings and paints from Akzo Nobel, the leading global paint manufacturer known for their stringent testing procedures and high quality products and HAGS is an accredited applicator of their coatings.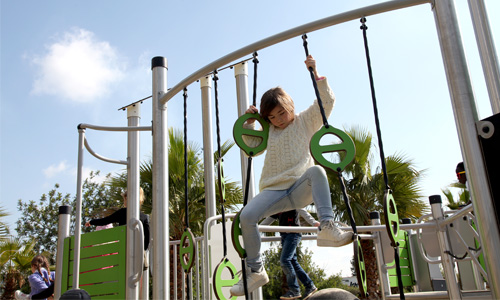 Stainless steel features and benefits
Stainless steel has a smooth, aesthetically pleasing finish and offers excellent resistance to corrosion. It is best suited for parts which need to withstand heavy wear or stress, such as slides or structural posts.Due to its unique properties stainless steel requires very little maintenance and will maintain a visually appealing look over time.
How sustainable steel equipment is?
Being exceptionally durable, high quality steel equipment is de facto more sustainable as it will stand the test of time and generate less waste. We have also invested in R&D to set up efficient manufacturing processes that reduce the impact on the environment.
The powder coated paint application has less impact on the environment than other manufacturing processes: powder doesn't contain any solvent, is fully recoverable and easily cleaned away. It is therefore safer to use and complies with all current and proposed environmental legislation.
Steel is entirely recyclable and can be sold to third party contractors once the product is at end of life, thus minimising the overall cost and environmental footprint of the equipment.
Warranties
We offer a guarantee of 25 years on structural steel and 5 years on the powder coating.
How to maintain and recycle steel equipment
Our products should be inspected periodically for mechanical damage and we recommend that the powder-coated finish to steel components be cleaned with a mild detergent solution and soft cloth. This should generally be carried out at least once a year, unless the provision is within 1500m of the sea in which case it should be carried out every three months.
Any identified breaks or scratches in coating surface, should be made good within a month:
Any bare metal should be thoroughly abraded with a fine grade sand paper to remove any corrosion.
Clean area with a non-aggressive solvent.
Immediately repaint using HAGS touch up paint.
Please contact your HAGS representative for further advice. If working on bare metal please use a zinc rich primer before the top coat.
Steel is used for: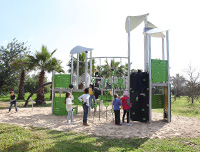 Multi-play unit UniPlay with stainless steel posts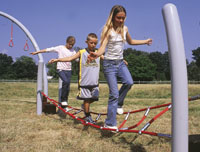 NRG trim trail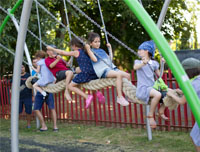 Swing frames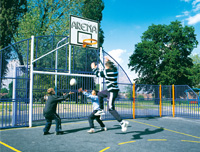 MUGAS
Why choose HPL play equipment?
HPL stands for High Pressure Laminates and it is a very strong, low-maintenance material frequently used in the construction and design industries for decking, cladding and furniture. HPL boasts outstanding resilience and a visually appealing appearance. As it can cope with strong coastal winds and high humidity levels, it is suitable for all environments, including coastal locations.
How is HPL manufactured?
HPL is composed of several layers of kraft paper impregnated with thermosetting resin. After a decorative paper layer has been added on each side, the layers are fused together with heat and pressure. The result of this process is a compact, very hard laminated sheet.
What are the benefits of HPL play equipment?
Due to its compact and dense quality, HPL is durable and extremely resilient. It has high resistance to scratching, heat, damp, stains, repeated impact and heavy wear.
It's very easy to clean and you only need a sponge and a mild detergent to remove most stains or residues.
HPL is available in a variety of colours and textures. Bespoke graphics can be engraved to add visual interest and inject some bright colours into a playground.
HPL is used for: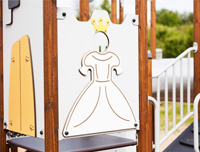 UniMini and UniPlay panels, decks and roofs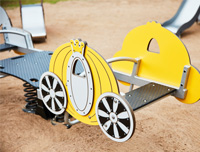 Seesaw side panels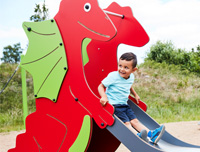 Slides side panels