Fill your basket with products by clicking "Add to my collection" from any product page. This can be found either within the product options panel or below the product image. Collections can be saved, and stored, within your HAGS Connect account or create and print your own custom brochure, download the files you need in one go, or to request a quote.
Create an inviting outdoor seating area with our meeting points
Meeting points provide teenagers with a safe and inviting socialising space that they can claim as their own. Their stylish, open design fosters a sense of ownership and make older children feel valued; it also allows natural surveillance whilst minimising adult interference. Research has shown that offering adequate facilities specifically designed to meet the needs of older youths can help reduce anti-social behaviour and improve residents' wellbeing. When sited near a sports facility, outdoor shelters are also a great spot for spectators to watch the game whilst being protected from the elements. With its blue and silver colour scheme and distinctive curved posts it's the perfect complement to the Arena MUGA range.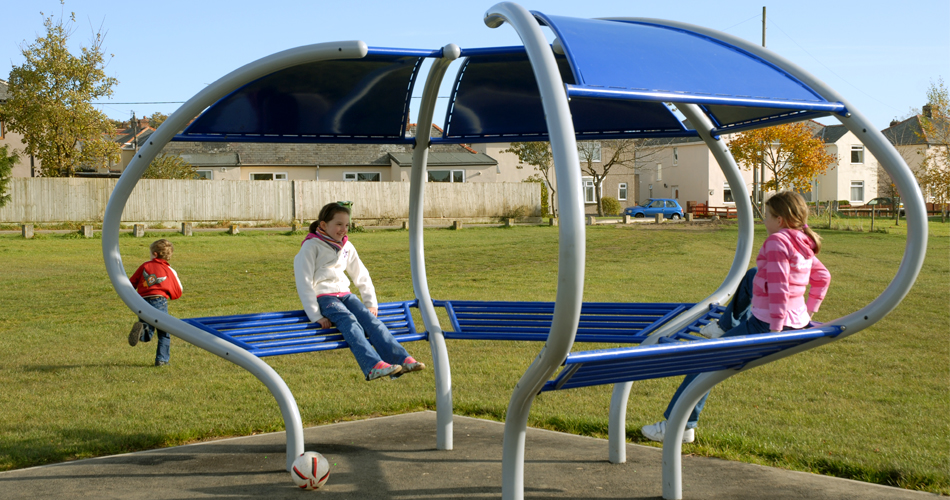 The structures are created through the combination of cells and each cell can accommodate up to two users. The open design allows all round visibility for improved safety and the seats are angled to prevent overnight loitering or sleeping. Back panels can be added to offer increased weather protection. These optional panels allow some visibility into the structure to be retained while providing protection from wind and rain.
A polyethylene seat panel is available in place of the steel bars for added sitting comfort. Both seating options can be used in a multi-cell configuration to provide alternative seating types. For optimal flexibility the back panel can be used either throughout or in part in a multi-cell structure.
A sturdy, vandal-proof product range
Crafted from strong structural steel, the meeting points boast outstanding durability and require limited maintenance. Stainless steel fixings with anti-tamper heads ensure improved resistance to attacks of vandalism.
Extended guarantees
Confident that our meeting points will stand the test of time, we offer a lifetime guarantee on structural steel and 5 years for the colour powder coating finish
.