Fill your basket with products by clicking "Add to my collection" from any product page. This can be found either within the product options panel or below the product image. Collections can be saved, and stored, within your HAGS Connect account or create and print your own custom brochure, download the files you need in one go, or to request a quote.
The Titan carrousel
Inspired by fairground rides, the Titan allows five players to spin around at an exhilarating speed, providing hours of endless fun. Because of its tilted overhead steel frame, speed dramatically increases when the players reach the highest point, adding an element of surprise and generating pure excitement.
More than just a fun piece of equipment, the Titan encourages cooperation and boosts social interaction through graduated levels of challenge. The Titan provides an inclusive play experience, enabling children of differing abilities to join the fun and play together. You can choose any combination of seats you need to create a bespoke play experience tailored to your requirements.
Four different seats, five different ways to play: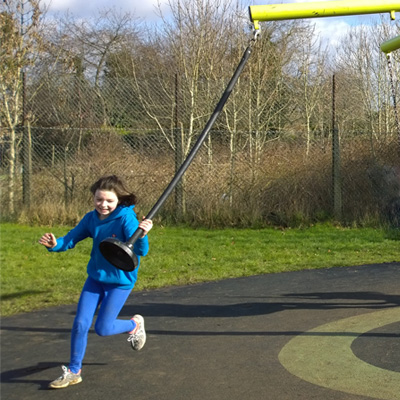 For those who prefer to run
The player holds on one of the ropes and runs around the Titan to increase speed. Level of challenge: Low Best suited to: adults who wish to participate, players who want to burn off some energy.