Fill your basket with products by clicking "Add to my collection" from any product page. This can be found either within the product options panel or below the product image. Collections can be saved, and stored, within your HAGS Connect account or create and print your own custom brochure, download the files you need in one go, or to request a quote.
Why are playground safety standards important?
Play is essential for physical and emotional strength, intellectual and educational development, improving social and behavioural skills, and inspiring creativity.
Children need places to play which are accessible, stimulating and most importantly safe. We need to give children the chance to learn about risk and consequences in a controlled environment.
The purpose of the standards is to:
Establish a safety criteria
Facilitate the design and manufacture of equipment
Assist communication and trade
Give confidence in the product
Increase child safety
Provide a level playing field for manufacturers and purchasers
Increases design flexibility
---
"Play is great for children's well-being and development. When planning and providing play opportunities, the goal is not to eliminate risk, but to weigh up the risks and benefits. No child will learn about risk if they are wrapped in cotton wool." HSE 2012 Children's Play and Leisure
What are the updates?
The Standard EN 1176 was originally published on January 1, 1999. The Standard is published in seven parts, and since then it was fully revised in 2008; a further revision of Parts 1, 2, 3, 4 & 6 was published at the end of 2017 to come into effect from 1 November 2018.
Here we highlight some of the updates that have come into force with the 2017 revision. For more information please download our Essential Guide to EN 1176 and EN 1177 Children's Playground Equipment & Surfacing.
Main updates on EN 1176 Playground Safety Standards for 2018:
Part 1: General safety requirements and test methods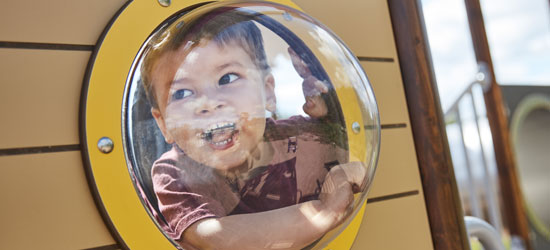 Significant changes in the requirements for controlling the provision of impact attenuating playground surfacing have been introduced.

A National Annex may have been provided by your country, if so, this is to be used in place of Annex H. If no national Annex is provided, then Annex H is to be used, which gives requirements to check the surface, after it has been installed.

A range of product information that needs to be provided by the manufacturer/ supplier of the impact attenuating surfacing, to comply with the Standard.

What this means for you... A set of information is to be provided to you in the pre-delivery stage plus another set of information at the time the product is provided.

A sieve test is now required for sand and gravel materials.

What this means for you... There is more flexibility to select an appropriate loose fill sand or gravel material, although the uniformity of the particle size must now be confirmed.

Further terms and definitions as well as requirements have been added for bouncing facilities.

What this means for you... Bouncing facilities now have a set of clear requirements to control the products provision.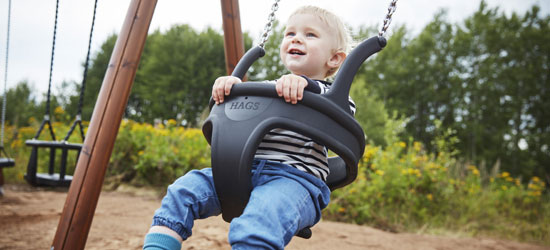 Part 2: Additional specific safety requirements and test methods for swings
Further requirements for group swing seats including requirements for their spacing.

One of these regulations is that a group swing seat suspended from a traditional classic swing (Type 1) shall have a secondary means of supporting the seat.

Additional clearance space for swings, when installed next to fences.

What this means for you... Based on guide clearances, a risk assessment should be completed to confirm the site specific clearance space to fences. This will also vary depending on the swing and seat type.
Part 3: Additional specific safety requirements and test methods for slides
Maximum length of initial straight sliding section is now 7m and maximum length of subsequent sliding section is 5m.
Surfacing requirements have been updated for slides with a type 1 runout and a sliding section less than 1.5m.

What this means for you... Depending on the type of slide and the size of the sliding section (where there is forced movement), there are new distances for surfacing to extend from the end of the slide.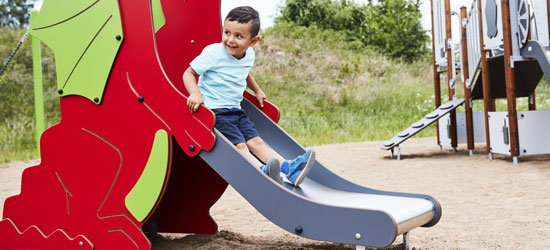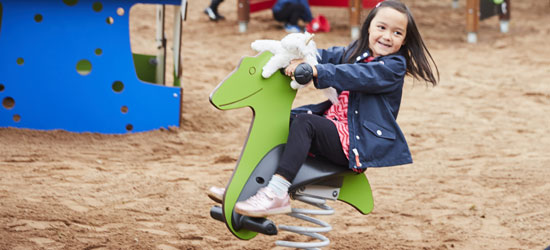 Part 6: Additional specific safety requirements and test methods for rockers
Minimum falling space has increased to 1500mm for equipment intended to be used in a standing position.

What this means for you... Standing springers and rockers now have a wider falling space around them, to account for falls from a standing position. This will mean that they will require a greater extent of impact attenuating surface, together with a larger space in your playground.

Rockers type 2 (single spring rockers), type 3 (multi-springs rockers) and type 4 (multi-pivot rockers) are now exempt from forced movement requirements.

What this means for you...A free space is no longer required, which means you can have more units placed closer together, however they will still require a tested impact attenuating surface, even if the free fall height is less than 60cm.
*Forced movement: a movement to which a user is committed by the design of the equipment (i.e. swinging, sliding or rotating) and which, once started, cannot be totally controlled by the user.
Are there any other updates coming up?
Part 5: Additional specific safety requirements and test methods for carousels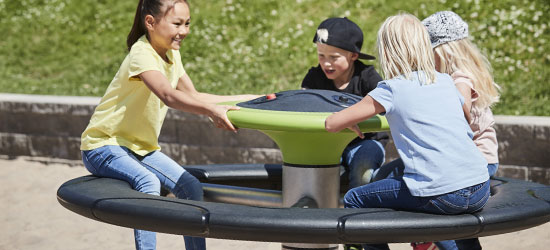 This is currently in its revision cycle and it is expected to be published 2019/2020.
Part 7: Guidance for installation, inspection, maintenance and operation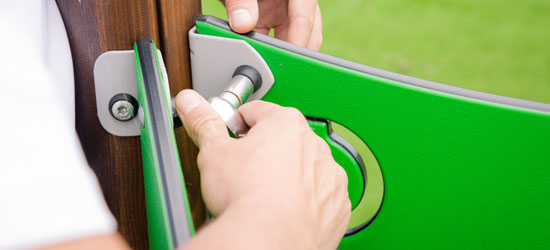 This is being revised and it is expected to be published at the end of 2019.
What happens with already installed playground equipment?
The old standards were withdrawn on the 31st October 2018, from then everything must comply with the new Standard. However, this does not mean that equipment that has been deemed perfectly safe under earlier standards have suddenly become dangerous the day after the publication of this latest version of EN 1176 or its subsequent revisions.
Where there are differences between the new and old standards, our advice is to carry out a risk assessment.
Contact Us
If you have questions or would like to know something about our products, you can contact us by phone, fax, email or directly on our website. If you do not know who at HAGS you should talk to, or if you would like to come in contact with a specific person at HAGS, you are welcome to call our switchboard to get connected to the right person.