Fill your basket with products by clicking "Add to my collection" from any product page. This can be found either within the product options panel or below the product image. Collections can be saved, and stored, within your HAGS Connect account or create and print your own custom brochure, download the files you need in one go, or to request a quote.
Build a Parkour Park with HAGS
About Parkour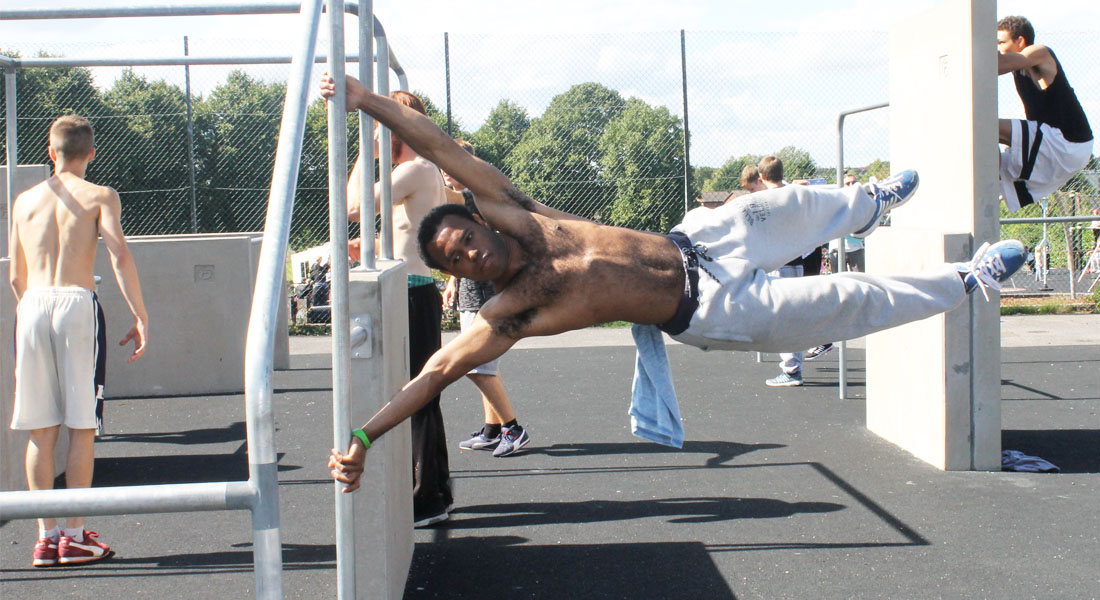 Parkour, also referred to as Freerunning, is a training discipline that focuses on developing the body and mind through movement, challenge and exploration. It combines running, jumping, climbing and rolling movements to enable a practitioner to overcome any obstacle in his or her path.
Parkour or freerunning is a fun and creative activity in which people of all ages, genders and abilities can participate. Practitioners explore their capabilities using any architecture available, constantly exploring to find new challenges and ways to adaptto their surroundings.
Parkour was started in France in the 1980s by a group of young men who called themselves Yamakasi. This group of friends took their childhood games and blended them with influences from the martial arts, military training, natural methods of physical fitness, etc, to develop parkour over a number of years. It had a wide and varied set of influences, but its core principles were to challenge oneself always, physically and mentally, to discover one's own true potential.
Benefits of Parkour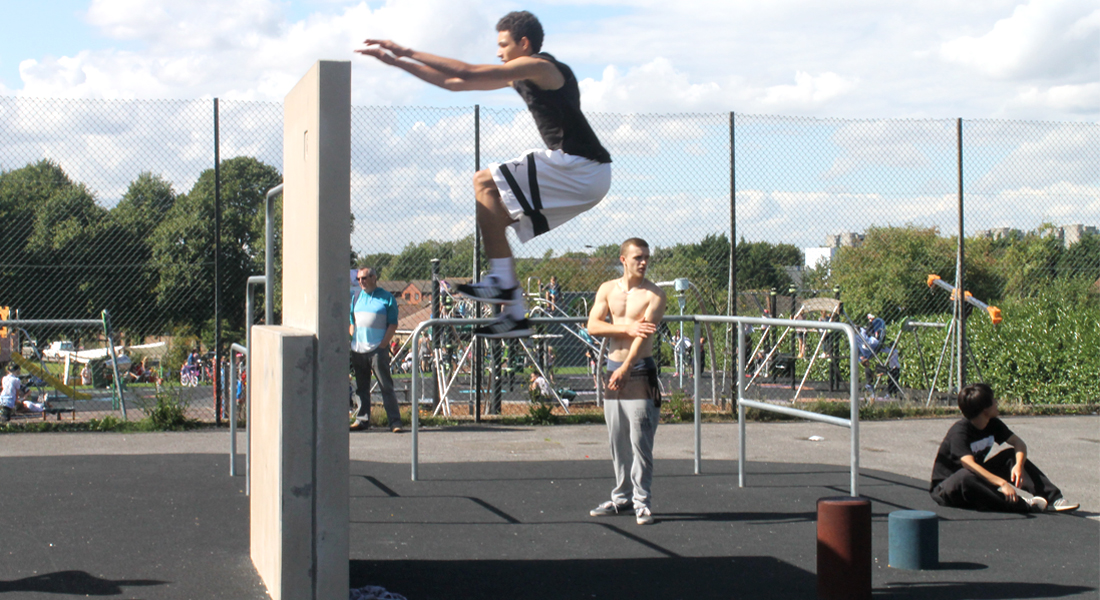 Parkour is a highly advanced form of physical activity and therefore assists in combating cardiovascular disease, stroke, high blood pressure, diabetes and cancers. Physical activity in combination with a healthy balanced diet has a direct relationship with helping to prevent obesity or persons being overweight. The effect of physical activity on psychological wellbeing has been well documented to show a positive relationship. An increase in self-confidence and overall wellbeing can also have a positive impact on learning.
Parkour is proven to have a direct impact on reducing antisocial behaviour, as the discipline encourages cooperation between practitioners and fosters a sense of community.
A Parkour Training Facility is a positive use of an existing space and can enhance any existing facilities whether it is a play or fitness area. Parkour encourages community building, social inclusion, breaking down cultural barriers and gender stereotyping. With the risks and legal implications involved in practicing parkour on private property a Parkour Training Facility provides a space for practitioners both new and experienced to practice parkour in a controlled and safe environment.
What should a Parkour training facility include?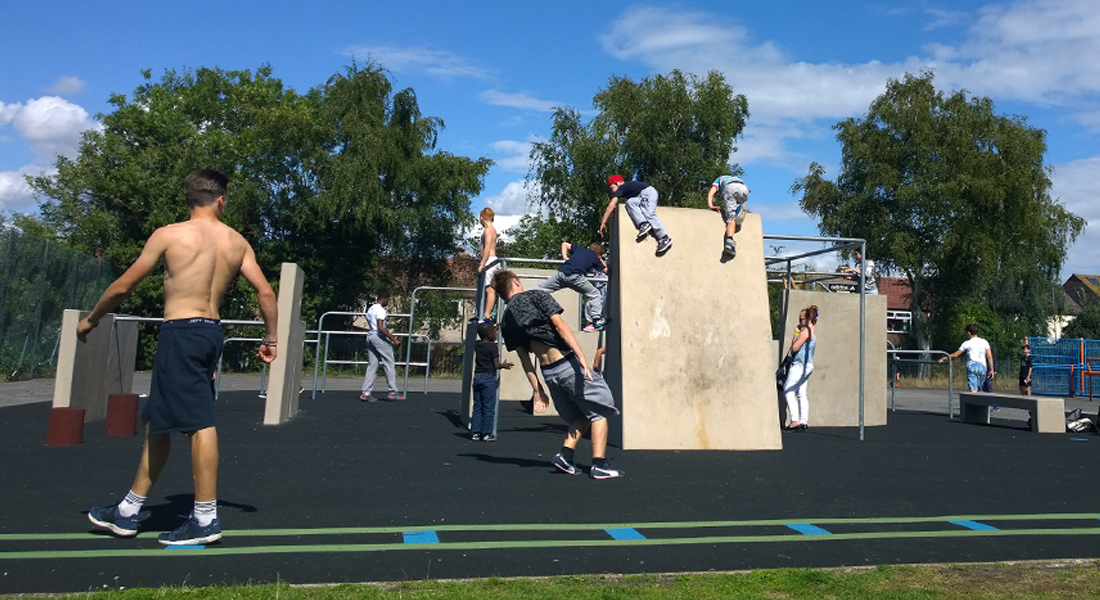 Parkour modules
Constructed from steel and concrete, a Parkour Training Facility should offer as much variation in physical challenge as possible. Designed to recreate urban environments, they generally consist of a mixture of steel frame elements, steel bars, concrete walls, concrete platforms, rubber step posts and natural elements.
Signage
Signage is optional in a Parkour Training Facility, however we can provide you withexamples of signage and suggestions of what to include in one. We recommend that the information boards should provide an emergency contact, the site address, the contact of the owner and operator, and some health and safety guidelines.
Surfacing
For up to 3.0m high elements we recommend the following specifications of surfacing to comply with BS EN 1177 as long as it is not in conflict with the usability:
Eco Surface recycled bound rubber mulch with the relevant critical fall height.
Safergrass – Grass mats with the relevant critical fall height.
Other surfacing can be used but may be in conflict with the overall usability of the Parkour Training Facility.
Our Parkour elements and bespoke facilities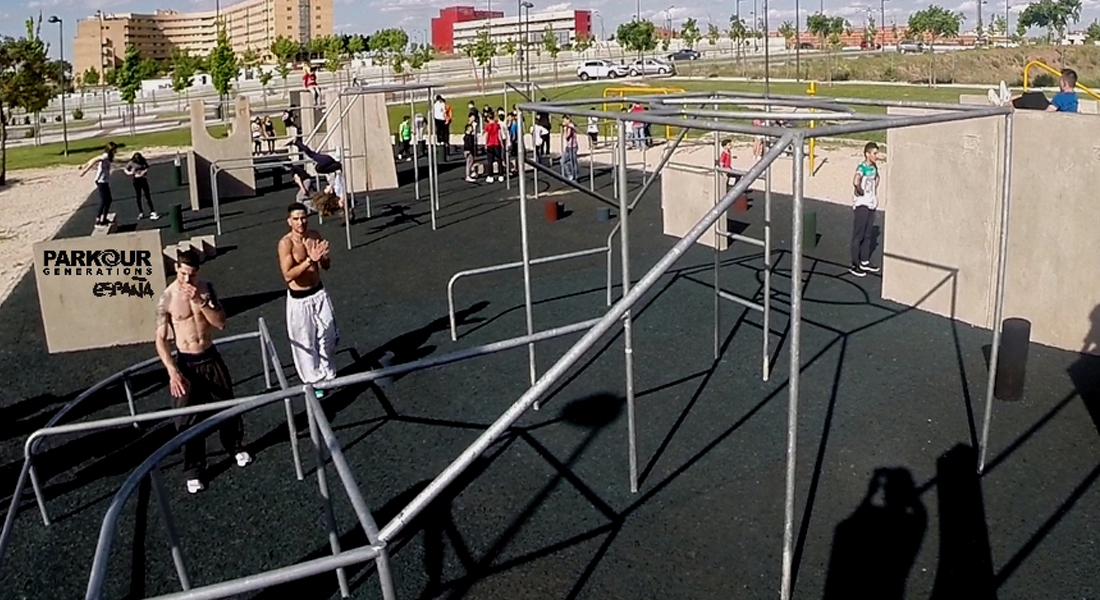 We provide pre-fabricated and bespoke Parkour training facilities, developed in collaboration with Parkour coaches and practitioners.
Health and safety requirements
Our range complies with the European standard for Parkour EN 16899 and every product or facility is independently risk assessed.
Materials
Our Parkour training facilities mainly consist of a mixture of steel frame elements, steel bars, concrete walls, concrete platforms and rubber step posts. Other materials and natural elements may be used in the construction of a facility.
Maintenance guidelines
Our parkour elements are usually maintenance-free. We do recommend however that a routine visual inspection is carried out monthly, operational inspection carried out quarterly and an Annual main inspection is carried out to ensure the safety and longevity of our Parkour parks.
Contact Us
If you have questions or would like to know something about our products, you can contact us by phone, fax, email or directly on our website. If you do not know who at HAGS you should talk to, or if you would like to come in contact with a specific person at HAGS, you are welcome to call our switchboard to get connected to the right person.