Fill your basket with products by clicking "Add to my collection" from any product page. This can be found either within the product options panel or below the product image. Collections can be saved, and stored, within your HAGS Connect account or create and print your own custom brochure, download the files you need in one go, or to request a quote.
Outdoor Fitness Equipment
Our outdoor gym equipment inspires people of all ages and abilities to get active. We provide communities with affordable, durable and attractive outdoor fitness areas to simply get people moving.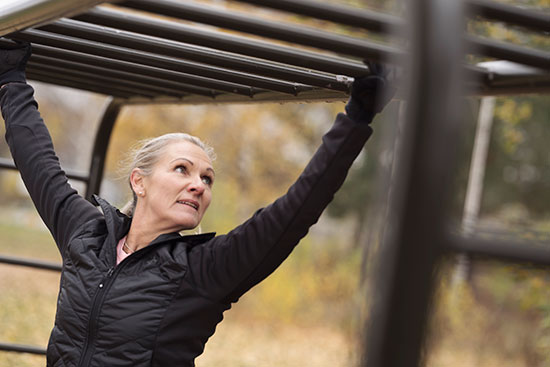 Design the perfect outdoor fitness space
Get some tips on how to create a welcoming and inclusive outdoor gym space for your community. Let's get everyone moving!
Browse by category
We've split our products into 5 simple categories so you can easily pick equipment that meets your available space, budget and user needs: Cardio, Strength, Balance, Flexibility and Multi-Gym. Having equipment from a combination of these elements ensures a high quality outdoor gym that will provide communities with a great space to improve their physical and mental health.
Looking for inspiration?
If you're looking for some ideas on outdoor fitness areas, take a look at some of our package examples on the button below. You can also browse or download our product catalogue which is full of images and inspirational outdoor fitness areas.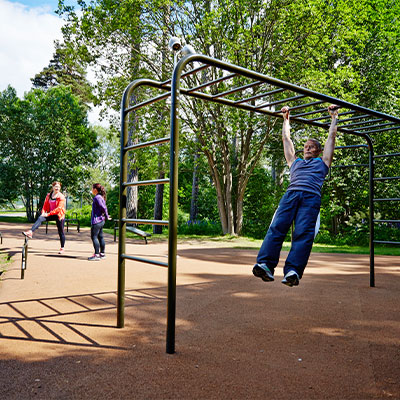 We've collected some amazing examples of fitness product packages created by our global community of designers to help inspire you into creating your very own fitness project.
View package ideas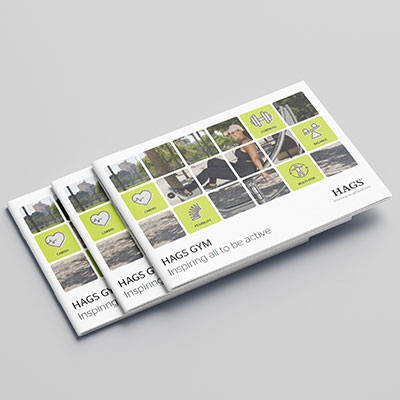 Browse our full range of products, learn more about our outdoor gym equipment, and find inspirational outdoor fitness areas in our brochure.
View or download by clicking on the button below.
View fitness Brochure
Why choose HAGS Fitness Equipment?
HAGS have a long history of designing, manufacturing, and installing outdoor products for public use.
Our play and furniture products have been at the heart of our portfolio for over 70 years; by utilising the same principles around safety and durability, we have seen uninterrupted use of our fitness products in some of the harshest environments around the world for over 15 years.
Original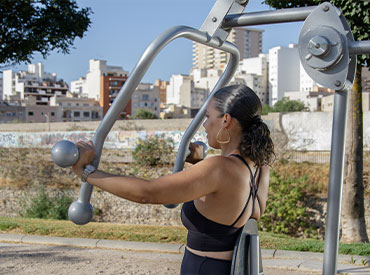 HAGS are one of the few Original Equipment Manufacturers of fitness equipment in Europe.
This means that we don't rely on imported products or components, ensuring that original spare parts or refurbishments can be provided promptly and without delay when needed.
Not all fitness products are equal and, whilst the differences might appear small, it's important to note the integrity with which we design our products.
High Quality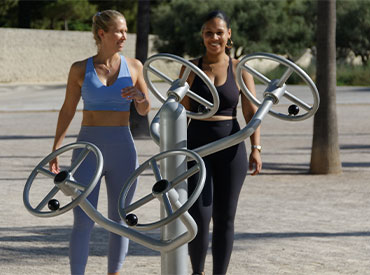 We take pride in our high-quality products created with the best materials.
We use high-quality materials and production methods for our internal buffer stops, helping to reduce the risk of entrapments and injury. Our bearings have high running accuracy, high-speed performance, and high system rigidity.
We use continuous welding techniques on many steel parts. This helps to eliminate water ingress, and prevent rust and corrosion. Our accredited powder coating system is economical, long lasting, and colour durable.
Inclusive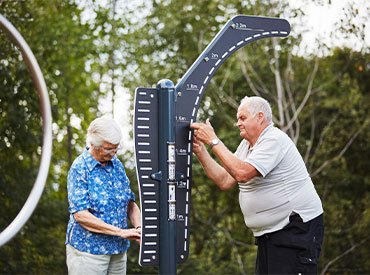 We design equipment that challenges you no matter your ability or body shape.
We use Anthropometric data on human body size and shapes during the design process. Therefore, taller/ heavier adults are less prone to injury on our equipment as all body dimensions have been considered.
Accessibility and usability are also important considerations during the design process, resulting in equipment that can be used by as many people as possible.
Choosing fitness colours
According to behavioural psychologists, colour affects a person's mind as well as body. Light enters from eyes and skin, travels through neurological pathways and affects the pineal gland in the brain, which in turn affects our body, mind, and emotions.
HAGS offer all fitness products in 6 standard colour options to suit your space and your needs. Below are a few tips if you're wondering which colour palette works best for you.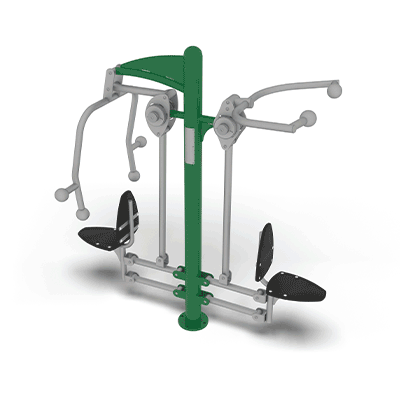 Outdoor gym colour guide
Green
Green is the colour of balance and harmony. It symbolizes nature, which not only relaxes the body but also relaxes the mind. It is also a sign of growth. If you are looking to exude health, rest, and stress relief, green is a great colour for an outdoor gym space.
Bright Colours
Neon bright colours are stimulating and energetic. Adding a touch of them to a group of fitness or cardio space can give people the energy to get through a workout. Don't overdo it though, too much neon can add stress and visual strain.
Grey & Silver
Grey and Silver are more neutral than bright green or yellow and if you're keen to create a space that is symbolic of elegance and sophistication, then these are great choices. These colours are also much easier to match with other equipment if you are looking to expand an existing area.