Fill your basket with products by clicking "Add to my collection" from any product page. This can be found either within the product options panel or below the product image. Collections can be saved, and stored, within your HAGS Connect account or create and print your own custom brochure, download the files you need in one go, or to request a quote.
SpinR² Inclusive Roundabout
SpinR² is a new inclusive roundabout with a unique twist. The new spinner features 2 wide seats offering plenty of space for everyone to join in the fun.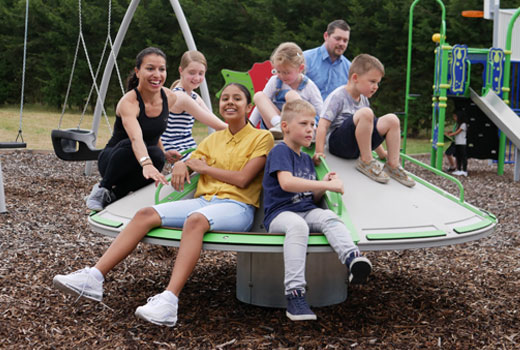 Everyone plays together!
As its name suggests, SpinR² is a new inclusive roundabout with a unique twist. This new roundabout encourages cooperation and socialisation as children work together to turn their world into a colourful blur.
The SpinR² has many great play features and functions.
The angled sides deliver a unique vestibular sensation and a physically active experience, inviting children to climb, spin, stand, sit, lay, hang and balance.
As well as the thrill of spinning, there is an added surprise element of a small bounce during rotation which further enhances the play experience.
A truly inclusive product designed for all abilities.
Two recessed, outward-facing, inclusive seats at transfer height enable children of all abilities to sit back and enjoy the ride. The wide seats feature an inward pitch that supports children with poor core control and offers plenty of space for parents to sit with their children and join in the fun.
Designed to be solid and durable.
Grip-friendly handles let riders steady themselves and provide a sure handhold for the person running to start the spin. SpinR² is made from HDPE grip material making it slip-resistant, tough and durable.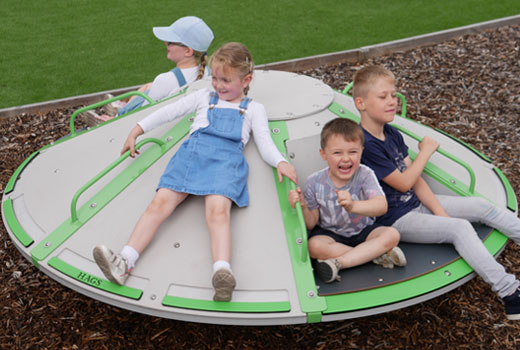 Need an expert opinion?
"The SpinR² delivers a fantastic vestibular experience and provides good postural support for children who have autism, sensory processing disorder or have difficulty with balance. It has a simple transfer in-and-out design for wheelchair users and it is not seen as a "special" piece of equipment but a piece of equipment that can be enjoyed by everyone!"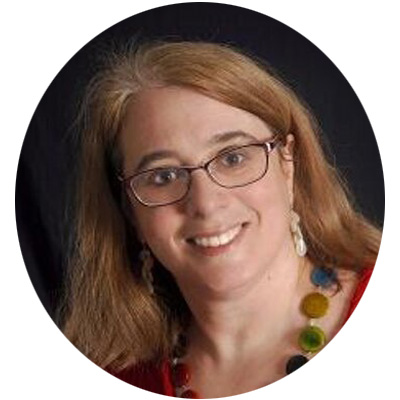 Mara Kaplan
Expert in Accessible and Inclusive Playgrounds
SpinR² with 2 inclusive seats
Age Range: 5-12
Number of users: 10
Dimensions (LxWxH): 2.2m x 2.2m x 0.9m
Space Required: 6.2 m x 6.2
Impact area: 30.4m²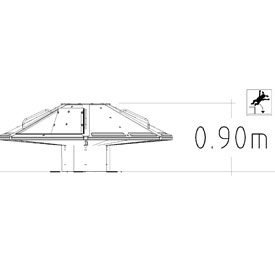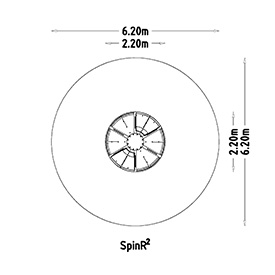 Play Values